Har Ghar Tiranga Certificate 2022 :- Har Ghar Tiranga Certificate: The Government of India has taken a very different initiative to hoist the national flag at home on this 75th Independence Day. The country's Home Minister Amit Shah has started this campaign with the intention of inculcating the feeling of patriotism in the hearts of the countrymen. The name of this campaign is 'Har Ghar Tiranga'. In his Mann Ki Baat on Sunday, Prime Minister Narendra Modi asked the countrymen to decorate their homes with the tricolor to celebrate the country's 75th Independence Day. Put a picture of the tricolor in your social media DP also. Under this campaign, citizens who hoisted the flag from August 13, 2022 to August 15, 2022 will get a certificate. Also Read – CWG 2022: Golden Girl Nikhat Zareen said – PM Modi's autograph is to be taken on boxing gloves, winning for the country is memorable
To commemorate the 75th year of the country's independence, under the Azadi Amrit Mahotsav, the Tricolor campaign is being run across the nation on 13th, 14th and 15th August. Enriched with the spirit of patriotism, people in the country will give the message of national unity by hoisting the tricolor on the roof of their house with the feeling of love and patriotism towards the national flag. DC Ashok Kumar Garg has said the above things. Har Ghar Tiranga Certificate 2022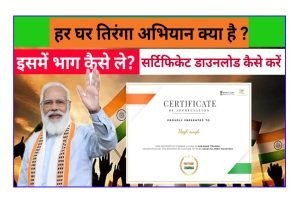 Har Ghar Tiranga Registration – 
| | |
| --- | --- |
| Purpose | Celebration Event for 75th Independence Day |
| Competition Name | Har Ghar Tiranga 2022 |
| Competition  Date | 13 August 2022 – 15 August 2022 |
| Type of Event | National Event |
| Benefit | Har Ghar Tiranga Certificate from Government |
| Official Website | harghartiranga.com |
What is Har Ghar Tiranga Scheme 2022 :-
Har Ghar Tiranga Abhiyan Har Ghar Tiranga Abhiyan is being started by the Central Government on the occasion of Independence Day in 75 of the country. Its purpose is to encourage all Indians to hoist the national flag in their homes. OR The initiative will inculcate a sense of patriotism among citizens as well as promote awareness about the national flag. Significantly, the Indian Flag Code was amended in the year to facilitate this campaign. According to the court, it was allowed to make gram by hand woven and machine made flags have also been allowed. You can order flags for your offices through the Government Portal.
Fund organizations can also participate and contribute including CSR Corporate Social Responsibility resources. Let us know that under the Amrit Mahotsav of Azadi, the Ministry of Culture plans to celebrate Independence Week from August 11 to August 17 across the country. About Flag Code of India The Flag Code of India was started in the year 2002. It permits restricted display of the Tricolor while maintaining its dignity and respect. Article 51 states that it shall be the duty of every citizen of India to abide by the Constitution and respect its ideals and institutions, the national flag and the national anthem.
देश के नागरिकों को 13 से 15 अगस्त के बीच अपने घरों पर राष्ट्रीय ध्वज फहराने के लिए प्रेरित करने को केंद्र सरकार ने 'हर घर तिरंगा' अभियान शुरू किया है. और देशभर में 25 करोड़ घरों में तिरंगा फहराने का लक्ष्य रखा है। इसके लिए केंद्र सरकार ने तिरंगा फहराने के नियमों में भी बदलाव किए हैं।
E-Shram Card 2022 Apply Online Registration, Download Card
Har Ghar Tiranga Certificate :-
Certificates will also be given to all the citizens participating in the campaign. The authority will award certificates of appreciation to all those individuals who put their efforts in becoming the art of campaign. The certificate will contain the person's name and appreciation for their effort. Individuals will be able to download it as well as share it on their social media accounts. But you have to register for the campaign before the last date. The last date for the registration process is 15 August 2022.
How to Register Har Ghar Tiranga Certificate :-
First of all you have to visit this official website hargartirang.com,
When you get to the website, select "Pin a Flag" from the home page!
Enter your information manually!
Or let your social networking accounts fill it out for you!
Afterwards, allow access to your area!
Then you should raise a flag where you are!
You have received a certificate showing your name followed by a successful PIN!
You can download and save this certificate on your device to get it!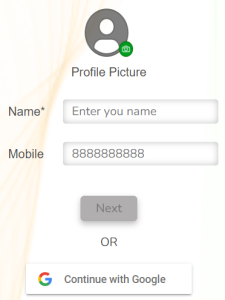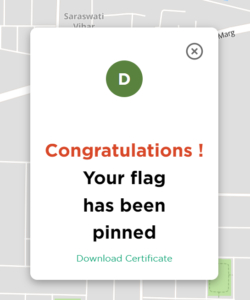 Important Links :