E-Shram Card Online 2022 :- for all the workers of the country who are working in the unorganized sectors. A plan has been made for all of them. This scheme has been brought by Prime Minister Narendra Modi. So that all the workers can be made strong and self-reliant. To take advantage of the scheme, workers of the unorganized sector will have to register by visiting the official website of e-shram at eshram.gov.in. After registration they will get e-shram card. Any Indian citizen working in the unorganized sector, whose age is between 16 to 59 years, can be registered in this scheme. E-Shram Card Online 2022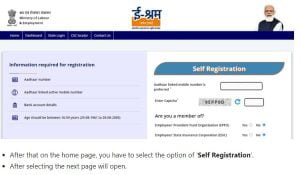 Ministry of Labor and Employment has launched e-Shram portal to collect data of workers in unorganized sectors and NDUW database will be used to launch new policies, create more jobs in future and launch new schemes for workers . Aap E Shramik Portal 2022. can see full details of
E-Shram Portal 2022 Details :-
Higher Authority
Ministry of Labour & Employment
Name of Portal
e-SHRAM Portal
Status
Active
Application Mode
Online Registration
Launch Year
2021
UW Full Form
Unorganised Worker
Name of Card
e-SHRAM Card
Scheme Launch By
PM Narendra Modi
Beneficiary
Unorganized Sector Workers and Laborers
Article Category
e SHRAM Card Online Registration 2022
Official Website

shramsuvidha.gov.in

register.eshram.gov.in
Note- 38 crore workers of the country are working in the unorganized sector. Construction workers, ready-trackers, small sellers, agricultural labourers, domestic workers, women, beedi workers, truck drivers, fishermen, milk sellers, ASHA and Anganwadi workers, MGNREGA workers, self-employed and many more workers in the unorganized sector are widely reduced. have been This national level portal (e-SHRAM Portal) has been created for the welfare of these crore unorganized workers brothers and sisters who play a big role in the country's economy and to envision their secure future. E-Shram Card Online 2022
Age Limit :-
Maximum Age : 59 Years.
E-Shram (UAN) Eligibility :-
This scheme is only for Indians.
Any candidate who is associated with some job / service can register in it.
Any candidate who is a member of EPFO OR ESIC OR is an Income Tax Payer is not eligible in this scheme.
E-Shram Documents Required :-
Registration Mobile Number for OTP (Login)
UIDAI Aadhar Card Number
Nominee Details
Bank Account Details (Account Number / IFSC Code / AC Holder Name)
Benefits to Unorganized Workers E-Shram :-
Every worker will be issued an identity card which will be a unique identification number.
Social security schemes will be implemented by the Ministries/Governments on the basis of this database.
Fee insurance of 2 lakhs under Pradhan Mantri Suraksha Bima Yojana
The unorganized workers will get the benefit of social security and welfare schemes.
To track the movement of workers from informal sector to formal sector and vice versa, their occupation, skill development etc.
To track the migrant labor workforce and provide them more employment opportunities.
Important Link :-