SSC Scientific Assistant IMD Syllabus 2022 :- Staff Selection Commission has invited applications for the post of Scientific Assistant IMD on its official website. All the applicants who were waiting for SSC Scientific Assistant Indian Meteorological Department Exam can apply for it between 30 September 2022 to 18 October 2022. Here you can check SSC Scientific Assistant IMD Syllabus 2022 and SSC Scientific Assistant Exam pattern 2022.
SSC Scientific Assistant IMD Syllabus 2022: Overview :-
A brief overview of SSC Scientific Assistant IMD Syllabus 2022 along with other details like important dates, pattern etc. is given below. Interested candidates must speed up their preparation and prepare their strategy to get their name in the list. SSC Scientific Assistant IMD Syllabus 2022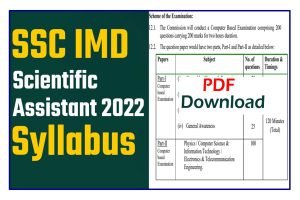 SSC Scientific Assistant IMD Recruitment Details 2022
| | |
| --- | --- |
| Organization | Staff Selection Commission (SSC) |
| Type of Employment | Govt Jobs |
| Total Vacancies | 990 Posts |
| Location | All India |
| Post Name | Scientific Assistant (India Meteorological Department) |
| Official Website | https://ssc.nic.in |
| Applying Mode | Online |
| Closing Date | 18.10.2022 |
| Category |  Recruitment  |
Details Of Vacancies:-
| | |
| --- | --- |
| Post Name | Total Post |
| SSC Scientific Assistant (India Meteorological Department) | 990 |
Educational Qualifications (As on 18-10-2022):-
Bachelor's Degree in Science (with Physics as one of the subject)/Computer Science/Information Technology/Computer Applications
OR
Diploma in Electronics and Telecommunication Engineering from a recognized Institution/University or equivalent.
NOTE A – The qualifying Degree or Diploma referred above should be in First Class (60% marks) or 6.75 CGPA on a 10 point scale.
NOTE B – The qualifying Degree or Diploma referred above must be of three (3) years duration after (10+2) examination.
NOTE C – The applicant must have passed 10+2 Examination from a Recognized Board or equivalent in Science with Physics and Mathematics as core subjects.
Mode of  Selection:
Written Exam
Document Verification
Medical Examination
CBT Exam Pattern :-
There will be negative marking of 0.25 marks for each wrong answer in the examination,
Time Duration: 2 Hours,
The Commission will conduct a Computer Based Examination comprising 200 questions carrying 200 marks for two hours duration.
The question paper would have two parts, Part–I and Part-II as detailed below :
Part-I Computer based Examination
Subject
Questions
Marks
English language & Comprehension
25
25
Quantitative Aptitude
25
25
General Awareness
25
25
General Intelligence & Reasoning
25
25
Part-II Computer based Examination
Physics / Computer Science & Information Technology / Electronics & Telecommunication Engineering.
100
100
Total
200
200
SSC Scientific Assistant IMD Syllabus (Part-I): –
General Intelligence & Reasoning: The Syllabus for General Intelligence would include questions of both verbal and non-verbal type. The test may include questions on analogies, similarities, differences, space visualization, problem solving, analysis, judgement, decision making, visual memory, discrimination, observation, relationship concepts, arithmetical reasoning, verbal and figure classification, arithmetical number series etc. The test will also include questions designed to test the candidate's abilities to deal with abstract ideas and symbols and their relationships, arithmetical computations and other analytical functions.
General Awareness: General, physical, geographical, topographical, economic and climatic features of India. Current events. Matters of everyday observation and experience on scientific aspects and reasoning. Basic topics of Mathematics, Chemistry and Physics. History of India, its cultural heritage, freedom movement, salient feature of the Constitution of India. Economic and social aspect of the country and its people.
Quantitative Aptitude: The questions will be designed to test the ability of appropriate use of numbers and number sense of the candidate. The scope of the test will be computation of whole numbers, decimals, fractions and relationships between numbers, Percentage, Ratio & Proportion, Square roots, Averages, interest, Profit and Loss, Discount, Partnership Business, Mixture and Alligation, Time and Distance, Time & Work, Basic algebraic identities of School Algebra & Elementary Surds, Graphs of Linear Equations, Triangle and its various kinds of center, Congruence and similarity of triangles, Circle and its chords, tangents, angles subtended by chords of a circle, common tangents to two or more circles, Triangle, Quadrilaterals, Regular Polygons, Circle, Right Prism, Right Circular Cone, Right Circular Cylinder, Sphere, Hemispheres, Rectangular Parallelepiped, Regular Right Pyramid with triangular or square base, Trigonometric ratio, Degree and Radian Measures, Standard Identities, Complementary angle, Heights and Distances, Histogram, Frequency polygon, Bar diagram & Pie chart.
English Language and Comprehension English grammar, Vocabulary, Spellings, Synonyms and Antonyms, Comprehension, Correct and incorrect usages, etc.
SSC Scientific Assistant IMD Syllabus (Part-II)  :-
Mechanics: Units and dimensions, SI Units, Newton's Laws of Motion, conservation of linear and angular momentum, projectiles, rotational motion, moment of inertia, rolling motion, Newton's Law of gravitation, Planetary motion, Kepler's Laws of Planetary motion, artificial satellites, Fluid motion. Bernoulli's theorem, Surface tension, Viscosity, Elastic Constants, bending of beams, torsion of cylindrical bodies, elementary ideas of special theory of relativity. Other
Computer Science and Information Technology:- Computer: History of Computers and their classification, Basic Organization, Memory–RAM, ROM, EPROM, etc., Magnetic-Floppy, Hard disks, CDROM, WORM etc. Concept of Virtual Memory and Cache Memory, Number systems, binary, octal, Hexadecimal, Binary Addition, Subtraction and Multiplication, Flotation, point representation and arithmetic, Arithmetic through stacks. Other
Electronics & Telecommunication :- Electronics: Conductors, Semi-conductors, Insulators, Magnetic, Passive components, characteristics of Resistors, Capacitors and inductors.PN Junction diode, forward and reverse bias characteristics and equivalent circuits of diode, Zener diode and applications, clipping, clamping and rectifier circuits using diodes. 16 Bipolar Junction Transistors (BJT), Field Effect Transistor (FET) and MOSFET; Biasing and stability, Emitter follower and its applications – Negatives Feedback-Transistor as a switch, Multistage Amplifiers, Feedback, Oscillators, Multi vibrators, Voltage regulation, Power amplifiers. Introduction Other
Important Link Area :-